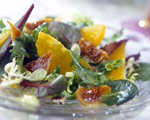 Prep: 25 min
Cook Time: –
Total: 25 min
Serving: 6 Servings
Pairing sweet figs with citrus and nutty, buttery toasted pecans makes this salad a wonderful combination of flavors.
Ingredients
6 cups mesclun
3 green onions, thinly sliced
2 tablespoons olive oil
1 teaspoon finely shredded orange peel
2 tablespoons orange juice
1 tablespoon champagne vinegar
1 8- or 9-ounce package dried figs, cut into thin wedges (about 1-1/2 cups)
1-1/3 cups orange sections (4 oranges)
Sea salt
Freshly ground pepper
1/4 cup pecan pieces, toasted
Directions
Place the mesclun and the green onions into a salad bowl and toss to combine.
In a small bowl, place the olive oil, orange peel and vinegar together, and whisk until blended.
Before serving, drizzle the vinaigrette over the salad, and then gently toss to coat. Scatter in the figs and the orange sections and then add a sprinkle of salt and pepper. Toss once more to combine.
Sprinkle the salad with the toasted pecans and serve.