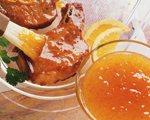 Prep: 10 min
Cook Time: 18 min
Total: 28 min
Serving: Makes about 1-1/2 cups
This sweet and citrusy glaze made with cinnamon, cumin and balsamic vinegar pairs beautifully with roasted pork tenderloin or grilled chicken.
Ingredients
2/3 cup chicken broth
2 tablespoons brown sugar
1 tablespoon molasses
1/2 teaspoon balsamic vinegar
1/4 teaspoon ground cumin
1/8 teaspoon kosher salt
Dash white pepper
Dash ground cinnamon
1/2 cup chopped orange segments
10 dried figs
1/4 cup water
1 tablespoon olive oil
Directions
Combine the broth, sugar, molasses, vinegar, cumin, salt, pepper and cinnamon in a large saucepan and mix with a wire whisk over medium heat.
Add the oranges and the figs and bring mixture to a boil.
After the mixture boils for 1 minute, reduce the heat and simmer, uncovered for about 15 minutes.
Stir in the water and allow the mixture to cool. Pour into a blender and process until smooth.