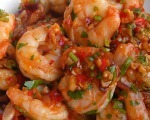 Prep: 15 min
Cook Time: 10 min
Total: 25 min
Serving: Serves 4 people
Fiery Szechwan Shrimp is a great out-of-the-ordinary-at-home dish! Totally tasty and spicy, this dish is great for dinner with friends served alongside a rice or noodle dish.
Ingredients
1, 12-ounce package of cooked shrimp
1 bag of frozen mixed vegetables (Asian-style preferred), steamed and drained
4 cloves of garlic, minced
1/4 cup green onions, sliced
1/4 teaspoon ground ginger
1/2 teaspoon crushed red pepper (more for a spicier taste)
1 tablespoon sesame oil
4 tablespoons water
2 teaspoons cornstarch
1 tablespoon rice vinegar
1 tablespoon tomato paste
1 teaspoon honey
1 tablespoon reduced-sodium soy sauce
Directions
Using a small bowl, whisk together the water, vinegar, tomato paste, soy sauce, cornstarch, honey, red pepper & ginger. Set aside.
Using a large wok or fry pan, heat the sesame oil over medium-high heat. Add the green onions and garlic. Cook for a short time (about 30 seconds). Add the steamed vegetables and stir everything until heated through. Add the shrimp and toss to coat with the other ingredients. Stir in the sauce. Toss everything so it's well-coated and cook until the sauce is bubbly and thick.