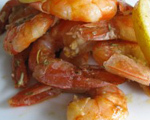 Prep: 10 min
Cook Time: 20 min
Total: 30 min
Serving: Serves 6-8
This spicy spinoff of a traditional shrimp cocktail can be enjoyed as an appetizer or served as a main dish on top of rice or fresh pasta.
Ingredients
6 pounds shelled, deveined and rinsed shrimp
2 sticks melted butter
1/2 cup Worcestershire sauce
1/2 tablespoon freshly ground black pepper
1 teaspoon sea salt
2 teaspoons rosemary
1-1/2 tablespoon Tabasco sauce
3 garlic cloves, minced
2 lemons, sliced in 1/2 inch slices
Directions
Preheat your oven to 400 degrees.
Place the butter, Worcestershire sauce, pepper, salt, rosemary, Tabasco sauce and garlic into a bowl and mix to blend.
Pour half of the sauce into a baking dish; add the shrimp and place the lemon slices on top. Pour the remaining sauce on top of the shrimp mixture and then place in the oven for 20 minutes, making sure to stir after 10 minutes of cooking. Serve immediately.