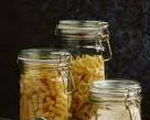 Prep: 10 min
Cook Time: 20 min
Total: 30 min
Serving: 4
Fettuccine Alfredo Done Lighter has the great creamy flavor but not all the artery clogging full fat cream and gobs of butter.
Ingredients
1 tablespoon butter, unsalted
2 teaspoons flour
3/4 cup whole milk
1/4 cup half and half
1 garlic clove, peeled and lightly crushed
1/2 teaspoon salt
1/2 teaspoon black pepper
pinch nutmeg
1 cup freshly grated Parmesan cheese
1, 9 ounce package fresh fettuccine
Directions
Cook pasta according to package directions. Reserve 1 cup cooking water.
In a large saucepan, heat the butter over medium heat until foaming. Whisk in the flour until mixture is smooth and golden, 1 to 2 minutes. Whisk in the milk, half and half, garlic, 1/2 teaspoon salt, pepper and nutmeg. Bring to a simmer.
Reduce heat to medium low and simmer until sauce is slightly thickened, 1 to 2 minutes. Discard garlic, stir in Parmesan and remove from heat.
Return sauce to low heat add 1/3 cup pasta water and cooked pasta. Toss until evenly coated. Cook until sauce has thickened slightly, about 1 minute. Add more pasta water as needed to thin sauce. Adjust seasonings.