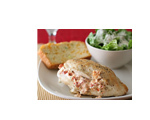 Prep: 15 min
Cook Time: 20 min
Total: 35 min
Serving: 4 Servings
Serve this 30 minute dinner with a side salad and slice of garlic bread drizzled with olive oil.
Ingredients
4 skinless, boneless chicken breast halves
1/2 cup crumbled feta cheese
1 teaspoon finely shredded lemon peel
1 tablespoon snipped sun dried tomatoes
1 tablespoon olive oil
Sea salt and freshly ground pepper
Directions
Cut a horizontal slit into the side of each chicken breast, being careful not to cut through to the opposite side.
Place 1/4 cup of the feta, the tomato and the lemon peel into a small bowl and stir to combine.
Stuff the feta mixture into the chicken breasts and then sprinkle the chicken with a few pinches of salt and some freshly ground pepper.
Place the olive oil in a large sauté pan over medium heat. Once the oil begins to shimmer, add the chicken and cook for 20 minutes, turning once, until chicken in no longer pink.
Place the chicken onto serving plates and sprinkle with the remaining feta cheese. Serve immediately.