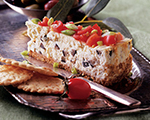 Prep: 45 min
Cook Time: 35 min
Total: 1 hr 20 min
Serving: 32 servings
This savory version of a traditional cheesecake dessert is ideal for luncheons served with a light and fruity glass of Beaujolais.
Ingredients
1-1/3 cups (about 35) sesame seed cracker crumbs
1/4 cup shredded Parmesan cheese
1/3 cup butter, melted
2 (8-ounce) packages cream cheese, softened
2 (4-ounce) packages crumbled feta cheese with basil and tomato
3 eggs
1 (4 1/4-ounce) can chopped pitted ripe olives, well-drained
1/3 cup sliced green onions
1 teaspoon dried oregano leaves
1/2 teaspoon coarse ground pepper
1/4 teaspoon garlic salt
2 medium Roma tomatoes, finely chopped to garnish
1/3 cup sliced green onions to garnish
Directions
Preheat the oven to 325 degrees.
Place the cracker crumbs, Parmesan cheese and butter in a medium-sized bowl and mix to combine. Transfer the crumb mixture to a 9-inch round baking pan, and press into the bottom of the pan and 1-1/2-inches up the sides.
Place the cream cheese and feta cheese into a large bowl and beat with a handheld mixer until mixture is smooth and creamy. Add the eggs and continue to beat, then add the olives, onion, oregano, pepper and salt, and stir to combine.
Empty the cheese mixture into the prepared crust and then place in the oven for 35 minutes.
Remove feta cheesecake from the oven and allow to cool for 15 minutes before cutting into wedges and then topping each slice with some tomatoes and green onions.