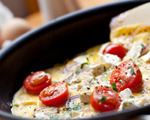 Prep: 10 min
Cook Time: 5 min
Total: 15 min
Serving: 2 Servings
Fresh basil, cherry tomatoes, red onion and feta cheese make the sweet and savory filling for this colorful breakfast or brunch omelet.
Ingredients
4 large eggs
2 tablespoons chopped fresh basil
1/4 of a small red onion, sliced thinly
Sea salt and freshly ground black pepper, to taste
1-1/2 tablespoons olive oil
1/3 cup feta cheese, crumbled
6 small cherry tomatoes, halved
1 teaspoon oil or butter, to fry
Directions
Place the eggs into a bowl and whisk until frothy. Add a pinch of salt and pepper, whisk again to blend and then set aside.
Put the oil into a frying pan over medium heat. Once the oil is hot and beginning to shimmer, add the beaten egg and cook for 2-1/2 minutes until the egg has just set. Top the egg with the feta cheese and then add the onion, basil and tomatoes.
Season with a bit of salt and pepper and then fold the omelet in half; cook for an additional 2 minutes before transferring to a plate. Serve immediately.