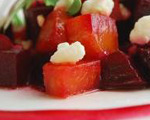 Prep: 10 min
Cook Time: 1 hr 15 min
Total: 1 hr 25 min
Serving: Makes 10 (1/2 cup) servings
Salty and creamy feta makes the perfect contrast to these sweet, roasted beets. Serve on a bed of baby greens, dressed with a simple lemon and olive oil dressing.
Ingredients
2 pounds beets, peeled, cut into 1/2-inch cubes
1/4 cup crumbled feta cheese
1 cup baby greens, rinsed and dried
1/2 cup extra virgin olive oil
Juice form 1/2 lemon
Sea salt, to taste
Directions
Preheat your oven to 400 degrees and brush a roasting pan with olive oil.
Put the beet into the prepared pan, sprinkle with a few pinches of salt, and then toss to coat. Spread the beets evenly in the pan, cover with foil and then place in the oven for 1 hour.
Raise the oven temperature to 450 degrees, remove the foil from the beets and drizzle with the olive oil. Cook the beets for 15 minutes, stirring once after 8 minutes, and then take the beets out of the oven and set aside to cool.
In the meantime, whisk the olive oil, lemon juice and a pinch of salt in a small bowl. Place the baby greens into a salad bowl, drizzle with a few tablespoons of the dressing and toss to coat.
Place the cooled beets onto the dressed baby greens and then top with the crumbled feta and the remaining dressing. Serve immediately.