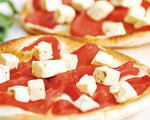 Prep: 10 min
Cook Time: 20 min
Total: 30 min
Serving: 6 Servings
The creamy and salty taste of feta makes it the perfect contrast and topping for this roasted red pepper pizza. Serve with an American Sauvignon Blanc.
Photo originally appeared on www.yummy.ph
Ingredients
1 (16-ounce) Italian bread shell
olive oil
3 ounces feta cheese
2 jars roasted red peppers, drained and sliced into strips
1/2 tablespoons dry oregano or 1-1/2 tablespoons fresh
sea salt and fresh black pepper
Directions
Preheat your oven to 400 degrees F.
Generously brush the bread shell with olive oil and then top with the red pepper strips and the feta. Brush the toppings with oil and then sprinkle the pizza with a few pinches of salt, pepper and the oregano.
Place the pizza in the oven and cook for 10 minutes. Slice and serve immediately.