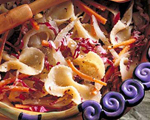 Prep: 10 min
Cook Time: 10 min
Total: 20 min
Serving: 4 Servings
Fennel and carrot add delicate texture and taste to this vegetarian pasta dish.
Ingredients
1 bulb fennel (about 1 pound), cored an cut into thin strips
4 ounces bow-tie, gemelli, or corkscrew pasta
2 large carrots, cut into thin strips (1 cup)
1/2 cup chopped onion
2 cloves garlic, minced
2 teaspoons olive oil
1/4 teaspoon pepper
1/8 teaspoon salt
1-1/2 cups shredded radicchio or fresh spinach
2 tablespoons grated Parmesan cheese
Directions
Cook the pasta al dente according to package directions, adding the fennel and the carrot for the last five minutes, and adding an additional 5 minutes to the cooking time. Drain well and return pasta mixture to pot.
In the meantime, place the olive oil into a small sauté pan over medium heat, and add the onion and the garlic. Cook the mixture for 3 minutes and then sprinkle with salt and pepper.
Add the onion mixture, radicchio and Parmesan cheese to the pot with the pasta and toss to combine. Transfer the pasta to a serving dish and serve immediately.