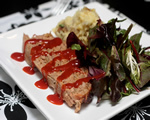 Prep: –
Cook Time: 15 min
Total: 15 min
Serving: 6-8 People
This meatloaf recipe is a great tasting twist on a classic meat loaf recipe. Use turkey for the meat loaf and it's delicious and low in cholesterol, too.
Ingredients
3 slices soft bread (any kind will work)
1 cup milk
1 egg, beaten
3/4 pound ground beef
3/4 pound ground turkey
4 mushrooms, minced
1/2 cup Granny Smith apple, peeled, cored, minced
1/4 cup minced onion, or 2 teaspoons dried, minced onion
1 teaspoon salt
1 teaspoon garlic powder
1/2 teaspoon dry mustard
1/4 teaspoon ground pepper
1 tablespoon Worcestershire sauce
Directions
1. Tear bread into pieces and put into a large mixing bowl; add remaining ingredients and mix thoroughly.
2. Form lightly into a loaf and place in a shallow baking pan or bread pan.
3. Bake for 1 hour and 15 minutes at 350 degrees F, or until internal temperature reaches 175 degrees F.
4. If desired, spread 3 tablespoons of ketchup or chili sauce over the top of the loaf before baking.