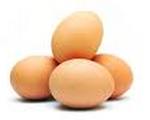 Prep: 10 min
Cook Time: –
Total: 10 min
Serving:
Favorite Mayonnaise is a versatile sauce made with raw egg.
Ingredients
1 fresh egg
1 teaspoon salt
2 teaspoon sugar
1 teaspoon dry mustard
2 cups vegetable oil
dash of white pepper
2 to 4 tablespoons lemon juice
Directions
Have all ingredients at room temperature. Beat egg with salt, sugar, mustard and 1 tablespoon lemon juice, using electric mixer. Add oil a little at a time, beating constantly. As mayonnaise thickens, oil may be added more rapidly. When very thick, remaining lemon juice can be added and remaining oil gradually added, beating until well blended.