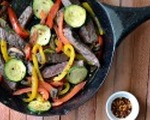 Prep: 10 min
Cook Time: 22 min
Total: 32 min
Serving: Serves about 5 - 6 people
The great thing about summer (besides the pools, vacations and longer days) is the abundance of fresh produce. Next time you're at the farmers market, stock up on your favorite fresh vegetables and make this delicious and easy one-skillet steak dinner. Made with farm fresh vegetables, light flank steak and a dash of sauce, this is an easy dish your whole family will love. Plus, with just one skillet, it makes clean-up a breeze!
Ingredients
1 pound flank steak
1/2 medium summer squash, sliced
1/2 medium zucchini, sliced
1 cup mushrooms, chopped
1 medium yellow pepper, chopped
1/2 large red onion, sliced
3 garlic cloves, minced
Liberal dashes of salt and pepper
1 tablespoon oregano
Fresh basil leaves, chopped
2 tablespoons olive oil
Lemon, optional
Crushed red pepper, optional
Directions
Prepare the steak by liberally rubbing the outside with salt and pepper. Preheat your grill to medium-high heat. Cook the steak until it is rare, about 3 - 5 minutes on each side. Remove it from the heat and cut it with a sharp knife.
Meanwhile, prepare the vegetables by heating the olive oil in a large skillet over medium-high heat. Add the onions and cook them until just soft, about 2 minutes. Add in the garlic and cook it until it is fragrant, another 2 minutes. Then, add in the mushrooms, squash, zucchini and the pepper. Reduce the heat to medium and cook until all of the vegetables are softened. Add in the pepper, salt, oregano and basil leaves.
Reduce the heat to low and add in steak slices and cook just an extra 2 minutes, or until medium rare. Remove it from the heat and serve with a squeeze of fresh lemon and enjoy!