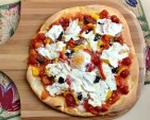 Prep: 15 min
Cook Time: 12 min
Total: 27 min
Serving: Serves about 4
The only thing better than homemade pizza is homemade pizza created with fresh from the farm ingredients -- like vine-picked tomatoes, peppers and freshly made mozzarella cheese. This pizza, made from ingredients purchased at a local farmers market, is a great way to use up those delicious vegetables and cheeses! After one slice of this incredible pie, you'll never order from Papa Johns again!
Ingredients
FOR THE DOUGH
1 package active dry yeast
1 teaspoon sugar
1 cup warm (110 degrees F) water
2-1/2 cups whole wheat bread flour
2 tablespoons extra virgin olive oil
1 tablespoon Italian seasoning
Dashes of salt and pepper
FOR THE TOPPINGS
3/4 - 1 cup marinara sauce
1/2 fresh yellow bell pepper, sliced
1/2 fresh red bell pepper, sliced
1/2 red onion, chopped
About 8 thick slices fresh mozzarella
2 tablespoons crushed red pepper
1 brown, organic egg
Dashes of salt
Directions
To prepare the crust, mix the yeast, water and sugar together in a large bowl. Let it sit for about 5 minutes, or until foamy. Add in the flour, salt, olive oil and Italian seasoning. Mix well until a dough forms.
On a floured surface, knead the dough for about 6 minutes, or until smooth and elastic. Roll the dough into a circle, about a 1/4-inch thick and place on a greased pizza stone or pizza pan. Drizzle with olive oil.
To prepare the pie, preheat the oven to 450 degrees F. Pour sauce over the pie crust and spread until most of the dough is covered. Cover with peppers, onion and red pepper, leaving the very center of the pie uncovered. Place cheese slices around the open center.
Carefully crack the egg over the center of the pizza so it sits nicely between the peppers and cheese. Sprinkle with salt and pepper.
Bake pizza for about 11 minutes, or until crust is golden brown, cheese is melted and egg is fully cooked.