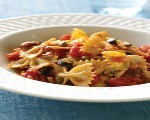 Prep: 10 min
Cook Time: 30 min
Total: 40 min
Serving: Serves 6 people
This light and colorful pasta dish is full of flavor. Farfalle with Baby Spinach and Roasted Red Peppers is a great family dinner, vegetarian meal option and good special occasion meal.
Ingredients
2 red and 2 yellow bell peppers, roasted
2 tablespoons of olive oil
10 ounces of baby spinach
1 teaspoon of garlic, minced
2 teaspoons of salt
Ground black pepper to taste
1/4 cup of white wine
2 cups of chicken or vegetable stock
1 pound of farfalle pasta
1/4 cup of slivered basil leaves
2 tablespoons of olive oil
1/4 cup of freshly grated parmesan cheese
Directions
Peel and seed the peppers and julienne cut them.
In a large saute pan over high heat, warm the olive oil. Add the spinach, 1/2 teaspoon of garlic, 1/2 teaspoon of salt and pepper. Saute the spinach until soft (about 2-3 minutes). Transfer to a plate.
Reduce the heat to medium and add the remaining 1/2 teaspoon of garlic, peppers, wine, stock and 1/2 teaspoon of salt. Simmer until the sauce begins to thicken (about 8-10 minutes).
Meanwhile, in a large pot, combine 6 quarts of water, 1 teaspoon of salt and bring to a boil. Add the pasta and cook until al dente (about 6-13 minutes).
Stir the basil, spinach and olive oil into the sauce.
In a large serving bowl, toss the pasta and sauce. Sprinkle with the parmesan cheese and serve.