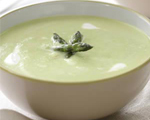 Prep: 45 min
Cook Time: 40 min
Total: 1 hr 25 min
Serving: 4 Servings
This luxurious soup is the perfect starter to any meal. With its light yet distinctive taste, fresh asparagus is readily available year-round, meaning you don't have to wait for spring to enjoy this delicate vegetable.
Ingredients
1-1/2 pounds asparagus, trimmed
1 teaspoon unsalted butter
1/3 cup finely chopped onion
1 garlic clove, minced
3 cups low-sodium chicken broth
1/3 cup long-grain rice
1/3 cup evaporated milk
1/2 teaspoon grated lemon zest
1/2 teaspoon salt
White pepper
2 tablespoons sour cream
Directions
Cut the tips off 12 spears of asparagus and reserve for garnishing the soup. Roughly chop the remaining asparagus.
In a medium-sized saucepan, melt the butter and sauté the onion and garlic until onion is translucent and garlic is fragrant; 3-4 minutes. Add the chopped asparagus, the chicken broth and the rice and bring to a boil. Lower the heat to medium-low and allow asparagus and rice to simmer, partially covered, for 30-35 minutes, or until tender.
In a small saucepan, determine water level by placing the reserved asparagus tips in the pan and adding enough water to cover; remove the tips and bring water to a boil. Re-add tips in pan and simmer, covered, for 6 minutes. Remove from pan, drain and rinse under cold water.
Place the soup in a food processor and puree in batches, or use a handheld mixer to puree directly in sauce pan. Return soup to saucepan and stir in milk, zest, salt and pepper; heat through.
Divide soup into 4 bowls; decorate each serving with 1/2 tablespoon of the sour cream and 3 asparagus tips. Serve immediately.