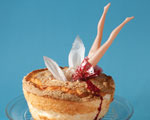 Prep: –
Cook Time: –
Total: –
Serving:
Did you relinquish your virtue at too young an age? Or in an unbecoming manner such as by the rear1, during an unconscious state2, or with multiple suitors simultaneously? Everyone knows that if you screw remorselessly before marriage, Christ will steer his rapture vacuum purposefully away from you when he comes to suck up the losers who refurbished their virginity by repenting for their rearward ways. See, salvation is just like Project Runway: you're either in or you're out. So take a sec to think about the probability that you'll be chucked into Satan's Glad trash bag with all the other sluts. You'll realize that there's not a whole lot of time to grab a Bundt pan, whip up your own scrumptious Fallen Angel Food Cake, and indulge in your final days.
1 .This counts.
2. In all of these ways at once, possibly?
From APOCALYPSE CAKES by Shannon O'Malley, Running Press, 2011
Ingredients
3/4 cup sugar, divided
1/4 teaspoon salt
1 cup cake flour, sifted
12 egg whites
1/3 cup warm water
1 teaspoon orange extract
1 teaspoon cream of tartar
1 defiled doll
Directions
Preheat oven to 350 degree F. In a food processor, spin sugar for a few minutes until it is fine. Sift half of the sugar with the salt and cake flour, reserving the rest of the sugar for later.
In a bowl, whisk together egg whites, water, orange extract, and cream of tartar. After two minutes, switch to a hand mixer. Slowly sift in the reserved sugar, beating at medium speed. Once you see peaks, sift in enough of the flour mixture to dust the top of the foam. Use a spatula to fold in. Continue until all of the flour mixture is incorporated.
Spoon mixture into an ungreased Bundt pan. Bake for 35 minutes before checking for doneness with a fork – the fork should come out clean. Cool upside down on a rack for an hour before removing from pan.
Create tactless representation of your daring life of iniquity.