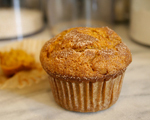 Prep: 15 min
Cook Time: 25 min
Total: 40 min
Serving: 1 dozen muffins
A wonderful snack when you're on the go, these simple muffins are made with pumpkin and spiced with cinnamon, nutmeg, allspice and ginger.
Ingredients
1-1/2 cups all-purpose flour
1 teaspoon baking powder
1 cup canned solid-pack pumpkin (15-ounce can)
1/3 cup vegetable oil
2 large eggs
1/4 teaspoon ginger
1/8 teaspoon nutmeg
1/8 teaspoon allspice
1-1/4 cups plus 1 tablespoon sugar
1/2 teaspoon baking soda
1/2 teaspoon salt
1/2 teaspoon cinnamon and 1/2 teaspoon
Directions
Preheat the oven to 350 degrees and put paper-liners in the cups of a muffin tin.
In a large bowl, add the pumpkin, oil, eggs, spices, 1-1/4 cups sugar, baking soda and the salt, and mix well. Sprinkle in the flour and blend until just combined.
In a small bowl, sift together the remaining 1/2 teaspoon cinnamon with the remaining 1 tablespoon of sugar and set aside.
Spoon the batter in to the prepared muffin tin cups to about 3/4-full, and then sprinkle with the cinnamon and sugar mixture.
Put the muffin tin in the oven and bake for 25 minutes or until a toothpick inserted in a muffin center tests clean.
Remove and cool the muffins on a wire rack for 5 minutes before removing.