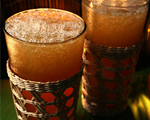 Prep: 5 min
Cook Time: –
Total: 5 min
Serving: 1 Serving
Falernum is a clove and lime-infused liqueur that is frequently used in tropical and Caribbean drinks.
Ingredients
1-1/2 teaspoons honey
1-1/2 teaspoons hot water
3/4 cup crushed ice
1 ounce 151-proof Lemon Hart Demerara rum
1 ounce dark Jamaican rum
1 ounce light Virgin Islands rum
1/2 ounce aged Martinique rum
3/4 ounce freshly squeezed lime juice
3/4 ounce freshly squeezed grapefruit juice
3/4 ounce falernum
1/4 ounce Cinnamon Syrup
2 dashes aromatic bitters
1/4 ounce vanilla liqueur
Directions
Place the honey into a small bowl and then add the hot water. Whisk until combined.
Put the honey mixture into a blender along with all of the remaining ingredients, except for the vanilla liqueur, and blend until mixture is frothy; approximately 5 pulses.
Transfer the mixture to a cocktail glass and top with the vanilla liqueur. Serve immediately.