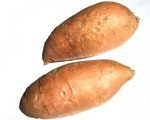 Prep: 25 min
Cook Time: 1 hr
Total: 1 hr 25 min
Serving: 6
A bit of a twist, lemon twist that is, on a traditional favorite, Fabulous Sweet Potatoes burst with lemon flavor.
Ingredients
4 sweet potatoes, cut diagonally
1 cup sugar
1/2 cup water
6 tablespoons lemon juice
1 teaspoon lemon rind
1 stick cinnamon
3 tablespoons butter
Directions
Boil all ingredients, except potatoes, 5 minutes.
Peel sweet potatoes and place in buttered baking dish. Pour cooked syrup over potatoes.
Bake for 1 hour at 350 degrees F, basting frequently.