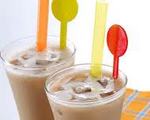 Prep: 15 min
Cook Time: 20 min
Total: 35 min
Serving: 1 Drink
Bubble tea has gained popularity in recent years and is actually quite easy to make on your own. You can use green tea instead of black tea depending on your preference. Also, although it can be hard to find, Chinese rock sugar works best.
Ingredients
5 tsp white sugar
1/3 cup tapioca pearls soaked
1 cup brewed black tea
2 tbsp milk
1/2 tsp honey
1 cup ice cubes
1/4 cup strawberries, pureed (optional)
Directions
In a small saucepan, boil 2 cups of water. Stir in 1 teaspoon of sugar until it dissolves. Add the tapioca pearls and cook for about 20 minutes. Rinse, drain, and refrigerate a couple of hours until chilled.
Pour tea, milk, honey, remaining sugar and fruit (optional) into a cocktail shaker. Stir until the sugar has dissolved. Add ice and shake until the outside begins to frost.
Pour into a glass, and add tapioca and don't forget your plastic straw!