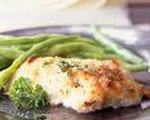 Prep: 5 min
Cook Time: 10 min
Total: 15 min
Serving: 4
Fabulous Baked Fillets can be made mild or spicy depending on how much Creole spice you use.
Ingredients
1 pound fish fillets (grouper, flounder, snapper, cod)
4 tablespoons butter
3 tablespoons onions, chopped
1 cup dry bread crumbs
1 1/2 teaspoons Tony's Creole seasoning
chopped parsley and lemon slices for garnish
Directions
Dry fish thoroughly. Place skin side on glass baking dish. Brush on 2 tablespoons butter. Set aside.
In a 4 cup glass measure, combine 2 tablespoons butter and onions. Microwave on HIGH for 2-3 minutes or until soft. Don't brown.
Add bread crumbs and creole seasoning. Mix well. Spread mixture over fish. Cover with plastic wrap.
Microwave 3 minutes on HIGH remove and check. Turn dish around and cook only until fish is fork tender. Let stand, covered for 5 minutes before serving. Garnish with parsley and lemon.