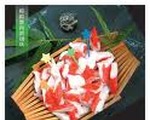 Prep: 1 hr 15 min
Cook Time: 15 min
Total: 1 hr 30 min
Serving: 20
Extravagant Crab Dip can be served cold or hot in an elegant chafing dish.
Ingredients
1 (6-1/2 ounce) can crab meat
1/4 cup lemon juice
2 (3 ounce) packages cream cheese, softened
1/4 cup cream
1/4 cup mayonnaise
1/2 clove garlic, crushed
1 teaspoon minced onion
1/2 teaspoon chives
salt to taste
1/8 teaspoon Worcestershire sauce
2 drops Tabasco sauce
Directions
Marinate crab meat in lemon juice for 1 hour; drain.
Combine cream cheese and cream in mixer bowl; mix until smooth. Beat in mayonnaise. Add garlic, onions, chives and salt; blend well. Fold crab into sauce. Add Worcestershire sauce and Tabasco. Serve hot or cold.