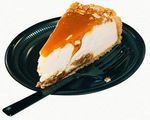 Prep: 30 min
Cook Time: 1 hr 30 min
Total: 2 hr
Serving: 12
A new take on a classic holiday drink, this Exquisite Eggnog Cheesecake is a rich, creamy after-dinner dessert.
Ingredients
1 cup finely ground cashews
1 cup finely crushed graham crackers (14 squares)
1/2 cup sugar
1/2 cup butter (melted)
4 8-oz packages cream cheese, softened
1 cup sugar
1 teaspoon vanilla
1/2 teaspoon ground nutmeg
3 eggs
1 1/2 cups Shamrock Farms Eggnog
Directions
For the cheesecake crust, stir together the ground cashews, graham crackers and the 1/2 cup sugar.
Drizzle the melted butter over the cashew mixture and toss until mixed well.
Press the mixture into the bottom of a 10-inch pie tin and about 1 1/2 inches up the sides. Set aside.
For filling, beat cream cheese with electric mixer 3 to 4 minutes or until light and fluffy. Gradually beat in 1 cup sugar, beating for 2 to 3 minutes or until completely smooth, scraping the sides of the bowl.
Reduce mixer speed and beat in vanilla and nutmeg. Add eggs all at once, beat on low until combined.
Stir in Shamrock Farms Eggnog.
Pour filling into crust-lined pan and place in a shallow roasting rack.
Bake at 350 degrees for 45 to 50 minutes or until the center appears nearly set when shaken.
Remove and allow to cool 15 to 30 minutes.
Cheesecake can be refrigerated for up to two days before being served.