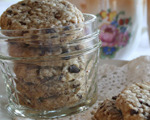 Prep: 15 min
Cook Time: 15 min
Total: 30 min
Serving: Makes about 2 dozen cookies
The bittersweet flavor and crunchy texture of these cookies, made with espresso and cocoa nibs, make them a 'to die for' combination. Enjoy them alone or as a garnish to a bowl of ice cream.
Ingredients
6 tablespoons powdered sugar
3/4 cup flour
2 teaspoons instant espresso powder
A pinch of salt
1/2 cup (1 stick) butter, chilled and cut into small chunks
1/4 cup cocoa nibs, finely chopped
Directions
Preheat your oven to 325 degrees and line a baking sheet with parchment paper.
Place the sugar, flour, salt and espresso into a bowl and mix well to combine.
Using a pastry blender or clean hands to blend, add the butter to the dry ingredients and mix until the texture of the mixture becomes a fine crumble. Add the cocoa nibs and then stir to combine.
Drop about 1-1/2 tablespoons of dough onto the prepared baking sheet, and then place in the oven for 15 minutes. Place the cookies on a rack to cool and then serve.