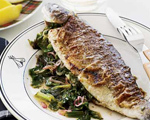 Prep: 15 min
Cook Time: 8 min
Total: 23 min
Serving: 2 Servings
Escarole is an extremely versatile leaf vegetable that has a slightly bitter flavor. Combine it with fresh shallots, lemon juice and olive oil to create a fragrant and tasty stuffing for butter-coated seared trout.
Ingredients
1 cup packed chopped escarole
1 small shallot, thinly sliced
1/2 teaspoon fresh lemon juice, plus lemon wedges for serving
Extra-virgin olive oil
Salt and freshly ground pepper
2 wholes 12-ounce trout, cleaned
Cornmeal, for sprinkling
2 tablespoons unsalted butter
Directions
Place the escarole, shallot, lemon juice, 1 teaspoon of olive oil and a few pinches of salt and pepper into a bowl and toss well to combine. Stuff the mixture into the trout and then close the fish shut with skewers.
Sprinkle the trout with salt, pepper and cornmeal and then place in a large skillet filled with 1/8-inch of very hot oil. Cook for 8 minutes over medium heat, turning once after 4 minutes.
Place the butter in a clean skillet over medium heat to melt and then add the fish to the pan; flip the fish until well coated with the butter. Remove the pan from the heat and let stand in the melted butter for 5 minutes before serving with lemon wedges.