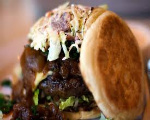 Prep: 15 min
Cook Time: 10 min
Total: 25 min
Serving: 6 servings
Pork burger on an English muffin with a coleslaw topping.
Ingredients
1 1/2 pounds ground pork
1 teaspoon minced garlic
1 teaspoon salt
1/4 teaspoon cayenne pepper
6 English muffins
2 teaspoons dijon-style mustard
1/2 cup prepared barbeque sauce
1 cup refrigerated creamy coleslaw
Directions
Mix together the first 4 ingredients and form into 6 1/4"-thick patties.
Cook on a grill for 5 minutes per side, or until the internal temperature reaches 165 degrees Fahrenheit.
Toast the English muffins. Spread a little mustard and barbeque sauce on each. Top with a patty, coleslaw and the other half of the muffin.