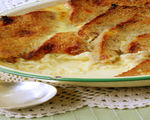 Prep: 30 min
Cook Time: 4 hr
Total: 4 hr 30 min
Serving: 16
English relatives who swear it is fit for the Queen. Brought to you from the 50+ Friends Club Cookbook.
Ingredients
16 slices day-old, firm-textured white bread (about 1 small loaf)
1 3/4 c. milk
1 pkg. mixed dried fruit (8 oz.) cut into small pieces
1/2 c. chopped nuts
1 med. apple, cored and chopped
1/4 c. butter or margarine, melted
1/3 c. packed brown sugar
1 egg, slightly beaten
1 tsp. ground cinnamon
1/4 tsp. ground nutmeg
1/4 tsp. ground cloves
Directions
Tear bread, with crusts, into 1- to 2-inch pieces. Place in crock pot.
Pour milk over bread.
Let soak 30 minutes.
Stir in dried fruit, nuts and apple.
Combine remaining ingredients in small bowl.
Pour over bread mixture.
Stir well to blend.
Cover and cook on low 3 1/2 to 4 hours or until skewer inserted in center comes out clean.