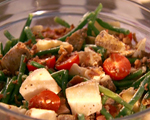 Prep: 25 min
Cook Time: 16 min
Total: 41 min
Serving: Serves 4
When the summer starts winding down, visit you farmer's market to get the ingredients for this salad so you can enjoy the fresh tastes of summer before the season ends.
Ingredients
1 pound baby new potatoes, halved
1 pound green beans (or mix of green and yellow), trimmed
8 cups (loosely packed) mixed salad greens
1/3 cup (packed) small fresh basil leaves
12 ounces assorted small tomatoes
1/2 cup black Kalamata olives
7 tablespoons of your choice of vinaigrette
1, 11-inch log goat cheese cut into 1/2 slices
4 tablespoons lightly toasted shelled sunflower seeds
Directions
Scrub the potatoes and then place in steamer for 12 minutes. Remove and set aside to cool.
Add the green beans to the steamer and steam for 4 minutes. Remove and set aside to cool.
Combine all the greens in a large serving bowl and toss with 3 tablespoons of your choice of vinaigrette, until the greens are well coated.
In another bowl, toss the potatoes and the green beans with 3 tablespoons of vinaigrette to coat.
Place the potatoes and green beans in the bowl with the salad and top with the remaining tablespoon of vinaigrette, olives, seeds, tomatoes and the goat cheese.