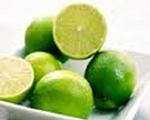 Prep: 3 hr 15 min
Cook Time: 5 min
Total: 3 hr 20 min
Serving: 10-12
Festive, bright green Emerald Salad Ring is served on a bed of lettuce and the center is filled with fresh fruit.
Ingredients
3 packages lime jello
3/4 cups hot water
1/4 cup cold water
1 envelope unflavored gelatin
3/4 cup unpeeled grated cucumber
2 tablespoon onion, grated
1 cup mayonaise
1 cup cottage cheese
1/4 cup slivered almonds
1 cup fresh mangoes, orange and grapefruit segments
Directions
Dissolve unflavored gelatin in cold water. Dissolve lime jello in hot water. Add unflavored gelatin to it and stir until dissolved. Cool.
When it begins to set, stir in remaining ingredients---except fruits.
Place in oil ring mold. Chill to set completely. Unmold onto a large platter. Fill center with fruits. Garnish with slivered almonds.