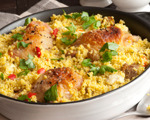 Prep: –
Cook Time: –
Total: –
Serving: 6 People
Dress up for Family Date Night with this beautiful and elegant white wine chicken and peach couscous meal. Your family will be inspired to turn your kitchen table into a white linen masterpiece -- and the memory will be a beautifully sweet one, at that!
Ingredients
1 small (4 to 5 pound fryer) chicken
5 garlic cloves (large sizes, if too small, just add more)
1 lime, halved
1 tablespoon salt
1 tablespoon black pepper
2 tablespoons olive oil (approximately)
1 cup dry white wine
1 tablespoon butter, diced
2-1/2 cups water
2 tablespoons butter
2 teaspoons ground cinnamon
Pinch of salt
1-1/2 cups (1 regular sized box) couscous
1 large peach peeled and diced
1 cup dried cranberries
1/2 cup fresh peach puree or orange juice
Freshly chopped mint
Directions
For the chicken, preheat the oven to 425 degrees F. Remove the giblets from the chicken and pat it dry.
Place the chicken in a roasting pan. Salt and pepper the inside of the chicken.
Squeeze the juice from one lime over the chicken, then place the lime halves and the three large garlic cloves inside of the cavity.
Place the two garlic cloves underneath the skin.
Pour the olive oil into your hands, then cover and coat the chicken. Add the salt and pepper to the outside of the chicken.
Pour 1/2 cup of wine into the bottom of the dish and add 1/2 tablespoon of butter (also to the bottom), sprinkling over both sides of the dish.
Bake for 1 hour and 15 minutes, basting every 20 minutes.
After the first 30 minutes, if all of the wine has evaporated, add another 1/2 cup, and add the rest of the diced butter to the top of the chicken, just carefully dropping it over the top, then return the chicken to the oven.
Continue to baste every 20 minutes. Remove the chicken from the oven and cover it with aluminum foil, allowing the chicken to rest for about 10 minutes before carving.
For the peach couscous, in a medium-sized saucepan, bring the water, butter, cinnamon and salt to a boil.
Stir in the couscous, then cover and remove it from the heat.
Let it stand for 10 minutes, then stir in the peach, cranberries and orange juice. Add the chopped mint right before serving. Enjoy!