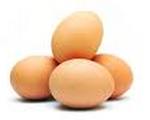 Prep: 5 min
Cook Time: 45 min
Total: 50 min
Serving: 4
Eggs Neopolitan are a great Sunday brunch treat. Serve on toast or English muffins.
Ingredients
6 eggs
1 can tomato soup
1 cup milk
1 tablespoon flour
1 tablespoon butter
2 teaspoons Worcestershire sauce
1 teaspoon dry mustard
1, 8 ounce package sharp Cheddar cheese, finely shredded
slices of toast or English muffin halves
Directions
In a saucepan, mix soup and milk. Blend butter and flour; add seasonings and stir into liquid in pan. Add cheese at same time.
When smooth, add eggs and poach slowly until set.