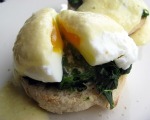 Prep: 15 min
Cook Time: 10 min
Total: 25 min
Serving: Serves 4 people
A favorite breakfast dish, Eggs Florentine combines poached eggs, spinach, mushrooms and English muffins to serve for a tasty breakfast or brunch.
Ingredients
Non-stick cooking spray
4 eggs
2 English muffins, split and toasted
1 cup fresh mushrooms, sliced
3 green onions, sliced
1/4 cup shredded carrot
1 cup skim milk
4 teaspoons cornstarch
3/4 teaspoon instant chicken bouillon
1/8 teaspoon dried tarragon
1/2 of a 10-ounce package of frozen spinach, thawed and well drained
Black pepper to taste
Directions
Preheat your oven to 300 degrees F. Use the non-stick cooking spray on a medium-sized saucepan. Over medium heat, add the mushrooms, green onions and carrot. Cook until the vegetables are tender. In a small bowl, add the milk and cornstarch and whisk together. Add the milk mixture to the vegetables. Add the bouillon and tarragon. Cook and stir until thick and bubbly. Stir an additional 2 minutes.
Remove about 3/4 of the sauce, covering it and keeping it warm. Add the spinach to the remaining sauce in the pan. Stir and cook until the spinach is warmed. Spoon the spinach mixture onto the toasted English muffin halves. Put them on a baking sheet and keep warm in the oven.
In a different medium-sized saucepan, add water until the pan is half-way filled. Bring to boil. Break one egg into a measuring cup (carful not to break the yolk). Gently slide the egg into the simmering water. Repeat with the remaining eggs. Simmer all the eggs, uncovered, for about 5 minutes (until the eggs are set). Remove the eggs with a slotted spoon.
Place one egg on top of each warmed muffin. Add pepper to taste. Top each egg with a bit of the reserved vegetable sauce.