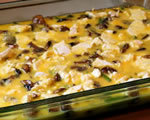 Prep: 5 min
Cook Time: 10 min
Total: 15 min
Serving: 4
A new creative way to serve eggs.
Ingredients
1/2 cup thinly sliced mushrooms
1/4 cup sliced green onions
4 eggs
3 tablespoons milk
1/4 teaspoon celery salt
1/4 teaspoon pepper
Directions
Combine mushrooms and green onions in a 1 quart glass casserole dish.
Cover loosely with plastic wrap and microwave on high for 3 minutes.
Stir once during this cooking process.
In a bowl combine the remaining ingredients and mix well.
Add to vegetable mixture in casserole dish.
Cover and microwave at high for 1 minute.
Break up set portions of egg with a fork and push towards center of dish.
Microwave at high for 1 to 2 minutes or until eggs are almost set, stirring once.
Cover and let stand for 2 minutes to complete cooking process.