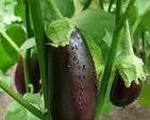 Prep: 15 min
Cook Time: 35 min
Total: 50 min
Serving: 4
Brown bean sauce enhances the flavors in Eggplant with Ground Pork.
Ingredients
6 long eggplants
1/3 pound lean ground pork
1 tablespoon brown bean sauce
1 tablespoon oyster sauce
1 can sliced mushrooms, drained well
1, 12 ounce can chicken broth
1 large garlic, minced
green onions, chopped for garnish
1 tablespoon olive oil
Directions
Cut eggplant into 1/2 inch diagonal pieces. Heat olive oil in a large skillet at medium high heat and place eggplant in a single layer. Brown on both sides.
Remove cooked eggplant and repeat process until all eggplant is cooked. Set aside.
In same skillet, brown pork with garlic. Drain fat, if necessary. Add broth, mushrooms, oyster sauce and brown bean sauce. Mix well, then add cooked eggplant.
When sauce comes to a boil, reduce heat and simmer for 15 minutes. Garnish with green onions.