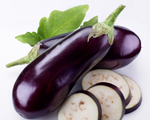 Prep: 5 min
Cook Time: 25 min
Total: 30 min
Serving: 4
This is a wonderful robust Salad and can also be used for a vegetable dip.
Ingredients
1 eggplant
1/4 cup fresh cilantro leaves
1 tablespoon grated ginger root
1 tablespoon soy sauce
2 cloves garlic
2 teaspoons sesame oil
1 teaspoon rice vinegar
1 large cucumber
1/4 cup chopped roasted sweet red peppers
Directions
Priece eggplant with fork several times and place on foil.
Bake at 350 degrees F. for 25 minutes or until the skin is charred and the eggplant is tender.
Remove from the oven and cool.
Use a sharp knife and remove the skin.
Place the eggplant in a food processor.
Add cilantro, ginger, soy sauce, garlic, oil and vinegar.
Process until coasrsely chopped.
Slice the cucumber into 1/4 inch rounds.
spoon the eggplant mixture on top of the rounds.
Garnish each with the red peppers.