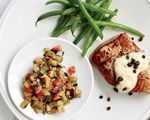 Prep: 10 min
Cook Time: 10 min
Total: 20 min
Serving: 4 Servings
This flavorful Mediterranean-inspired condiment is made with sautéed eggplant, tomato, Kalamata olives, basil and fennel seeds. Enjoy it accompanied with grilled poultry, or topped onto your favorite burger or hot dog.
Ingredients
3 tablespoons extra-virgin olive oil
1 large eggplant, peeled and cut into 1/2-inch dice
2 cloves garlic, minced
1 medium shallot, cut into 1/4-inch dice
1 large celery rib, cut into 1/4-inch dice
1 large plum tomato, cut into 1/4-inch dice
6 pitted kalamata olives, minced
2 tablespoons finely chopped basil
2 teaspoons fresh lemon juice
1/4 teaspoon fennel seeds, chopped
Salt and freshly ground pepper
Directions
Place 2 tablespoons of olive oil into a large sauté pan over medium heat. Once it begins to shimmer, add the eggplant and sauté for 4 minutes, stirring frequently. Transfer the eggplant to a bowl and set aside.
Put the remaining oil into the pan and then add the garlic, shallot and celery. Sauté the mixture for 4 minutes, and then add the tomato and cook for an additional 40 seconds.
Transfer the garlic mixture to the bowl with the sautéed eggplant, and then add the olives, basil, lemon juice and fennel seeds. Stir the mixture to combine and then season to taste with salt and freshly ground pepper.