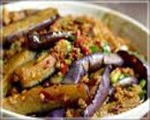 Prep: 15 min
Cook Time: 15 min
Total: 30 min
Serving: Serves 6 people
Served as a side dish, Eggplant in Garlic Sauce is a perfect pairing for beef, pork or fish.
Ingredients
2 medium eggplants
6 garlic cloves, minced
2-3 tablespoons of chili paste with garlic
4 tablespoons of dark soy sauce
2 tablespoons of black vinegar (you can substitute balsamic vinegar)
2 tablespoons of sugar
1/2 cup of peanut oil
1-1/2 cups of diced scallions
Directions
Cut eggplant into 3x3/4-inch strips (do not peel). Combine minced garlic with the chili paste.
In a separate bowl, mix the soy sauce, vinegar and sugar. Heat a wok over medium heat and add 1/3 of the oil. When the oil gets hot, add half the eggplant and stir fry until it begins to brown. Once browned, remove an place on a serving platter.
Repeat the stir fry process with the remaining eggplant.
Add three tablespoons oil to the wok, and when its hot, add the garlic and chili paste mixture. Stir for about 10 seconds. Re-add the eggplant and mix well.
Add the scallions and stir for another minute. Add the soy sauce mixture and stir fry for another minute. Serve immediately.