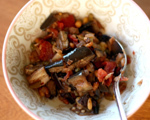 Prep: 40 min
Cook Time: 40 min
Total: 1 hr 20 min
Serving: Makes about 2 cups
Caponata is a Sicilian eggplant side dish that can be either vegetarian or made with sea food or fish.
Ingredients
2 pounds eggplant, sliced lengthwise into 1/4-inch thick strips
3 tablespoons olive oil
1 small yellow onion, chopped
5 cloves roasted garlic
1/2 cup diced celery
1 14-ounce can chopped tomatoes
2 tablespoons rinsed capers
3 tablespoons toasted pine nuts
2 tablespoons golden raisins or currants
1/3 cup chopped Kalamata olives
2 tablespoons light brown sugar
1/3 cup red wine vinegar
Sea salt and red pepper flakes
Directions
Preheat your oven to 400 degrees.
Place the eggplant on a baking sheet, being careful not to overlap, and place in the oven for 20 minutes. Remove the eggplant and once cool enough to handle, coarsely chop and set aside.
Place the olive oil in a large sauté pan over medium heat.
Once the oil begins to shimmer, add the onions, roasted garlic and celery and sauté the mixture until soft being careful not to brown.
Stir in the tomatoes and cook the mixture for 3 minutes before adding the capers, pine nuts, raisins, olives, brown sugar, and vinegar, and stir well to combine.
Cook the mixture, stirring frequently to prevent sticking, for 8 minutes, and then add the eggplant and a few pinches of salt and red pepper flakes to taste.
Remove the pan from the heat, transfer the eggplant mixture to a bowl and let stand for 30 minutes, stirring occasionally, to allow flavors to blend before serving.