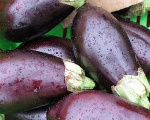 Prep: 30 min
Cook Time: 40 min
Total: 1 hr 10 min
Serving: 1 loaf
A twist on the carrot cake- eggplant bread! You can substitute sugar for the honey is desired.
Ingredients
1 cup honey
2 cups sifted flour
1 teaspoon salt
2 cups grated and drained raw eggplant
1/2 cup vegetable oil
2 teaspoons baking powder
2 eggs
Dates, raisins and nuts, if desired.
Directions
Preheat oven to 350 degrees Fahrenheit. Grease and flour a loaf pan.
Beat together the eggs, honey and oil until well blended.
Stir in the flour, baking powder and salt until moistened.
Fold in the eggplant, dates, raising and nuts.
Pour into the prepared pan and bake for 40 minutes.