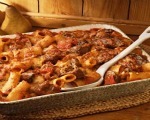 Prep: 15 min
Cook Time: 45 min
Total: 1 hr
Serving: Serves 4 people
Eggplant and rigatoni bake is an Italian-inspired casserole. Great to make when eggplants are in season. This recipes is a tasty treat for dinner served with a fresh green salad.
Ingredients
3 medium-sized eggplants
2 eggs, beaten
1/3 cup freshly grated Parmesan cheese
8 ounces rigatoni pasta
1/2 cup frozen peas, thawed
3 tablespoons olive oil (more as needed)
1 cup shredded mozzarella cheese
3-3/4 cups pasta sauce
Salt and pepper to taste
1/2 cup flour for dredging
Directions
Slice the tops off the eggplants and cut them lengthwise into 1/4-inch slices. Sprinkle them with salt and leave them in a plastic colander to drain for about 30 minutes. Draining them helps eliminate any bitterness in the eggplant. Rinse and pat dry.
Place the flour and eggs in two separate medium-sized shallow bowls. Add 3 tablespoons of the Parmesan cheese to the eggs and stir to mix.
Using a large-sized saute pan over high heat, add the olive oil. When hot, dip the eggplant slices in the flour, then egg and fry them on both sides until golden and crisp. Set aside and keep hot.
Meanwhile, preheat your oven to 375 degrees F. Cook the pasta according to package directions. Drain and set aside.
Using paper towel (or your hands) rub a medium-sized baking dish with olive oil. Line the baking dish bottom and about three-quarters up the sides with the eggplant slices.
In a large bowl, mix together the cooked pasta and one-third of the pasta sauce. Add the peas, mozzarella and half of the remaining Parmesan cheese and mix together. Fill the baking dish with the pasta mixture. Cover with the remaining eggplant slices and add some pasta sauce to the top.
Cover with foil and bake for about 25-30 minutes. Remove the dish from the oven and let stand for about 10 minutes. Remove the foil and flip the layered mixture onto a serving dish. If you have any remaining tomato sauce, warm it and use it to top the dish. Sprinkle with cheese and serve warm.