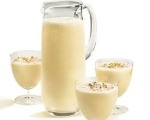 Prep: 4 hr 15 min
Cook Time: 30 min
Total: 4 hr 45 min
Serving: 2 quarts
A classic, deliciously flavrored Eggnog Cocktail.
Ingredients
1 cup sugar
12 egg yolks
4 cups whole milk
1 cup heavy cream
8 ounces brandy
4 ounces gold rum
1 tablespoons vanilla extract
1/2 teaspoon ground nutmeg
Directions
Combine the sugar and egg yolks, beat until thickened.
Add the milk to a large saucepan and bring to a simmer over medium heat. Beat the milk into the egg yolks and return to the pan over low heat. Stir constantly until the mixture reaches 150 degrees Fahrenheit and is thick enough to coat the back of a wooden spoon. Strain from the pan into a large bowl and let cool.
Beat the cream until thickened, fold into the egg mixture. Mix in the remaining ingredients. Refrigerate for 4 hours minimum. Serve cold.