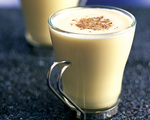 Prep: –
Cook Time: –
Total: –
Serving:
Ingredients
2/3 cup sugar
6 egg yolks
Pinch of salt
2 quarts of milk or half and half
6 Tablespoons sugar in egg whites
2 teaspoons vanilla
1 pint whipping cream
nutmeg
Directions
In a large saucepan, mix egg yolks and sugar. Add salt and milk (or half and half). Cook on medium-low heat, stirring constantly, until mixture coats spoon.Refrigerate until cool.
Whip egg whites with sugar until soft peaks form. Add to cooled mixture with vanilla. Chill overnight.
Add whipping cream flavored to taste with sugar and vanilla. Sprinkle with nutmeg. *Traditional egg nog is served with a bit of rum in each glass. Note: For the 2 quarts of milk or half and half, I use 1 quart of each.