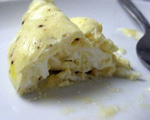 Prep: 5 min
Cook Time: 10 min
Total: 15 min
Serving: Makes 1 omelet
Instead of making an omelet in a frying pan, place all of the ingredients into a Ziploc bag and drop in boiling water. Voilà! A light and fluffy omelet without all the mess.
Ingredients
2 heaping teaspoons meat (bacon, pre-cooked sausage and some ham), cut into pieces
2 heaping teaspoons cheese of your choice
2 eggs
1 large (gallon size) Ziploc bag
Directions
Bring a large saucepan of water to a boil.
In the meantime, beat the eggs in a small bowl until frothy and then add the meat pieces and the cheese.
Mix the egg mixture until combined and then pour into the Ziploc bag. Remove any air form the bag, seal and then place the bag into the boiling water for 10 minutes.
Remove the bag from the water and empty contents onto a plate. Serve immediately.