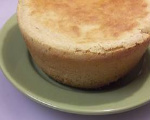 Prep: 1 hr 15 min
Cook Time: 35 min
Total: 1 hr 50 min
Serving: 2 loaves
Makes 2 loaves, great for holiday gatherings or family meals.
Ingredients
6 1/2 cups sifted flour
2 tablespoons sugar
2 teaspoons salt
2 packages active dry yeast
2 tablespoons soft butter
2 cups very warm water
3 eggs
Directions
Preheat oven to 375 degrees Fahrenheit. Grease 2 1 1/2 quart casserole dishes.
In a large bowl beat whisk together 1 1/2 cups of the flour, yeast, sugar and salt. Add in the butter. Slowly add the water. Beat on medium speed for 2 minutes.
Add the eggs and another 1/2 cup of flour. Beat on high for 2 minutes.
Add in the remaining flour to make a soft dough.
Cover, allow to rise in a warm place for about 25 minutes, until doubled.
Stir it down and then divide between the 2 prepared pans. Cover and allow to rise again until doubled, about 40 minutes.
Bake for 35 minutes until golden brown. Remove from dishes and cool on racks.