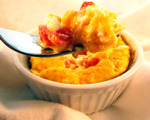 Prep: 12 hr
Cook Time: 1 hr
Total: 13 hr
Serving: 4
Make ahead and refrigerate overnight and have Egg and Cheddar Bake ready for a super Sunday Brunch.
Ingredients
6 slices bread
6 eggs
1/2 pound Cheddar cheese, cubed
1/4 pound margarine
1 1/2 cups milk
1/8 teaspoons dry mustard
6 bacon strips, cooked crisp
Directions
Butter bread and cut into cubes. Beat eggs and add to milk and mustard.
In a butter 9 by 11 baking pan, layer the bread and cheese cubes. Pour egg and milk mixture on top. Top with crumbled bacon. Refrigerate overnight.
Put pan in a larger pan filled with water. Bake at 325 degrees F for 45-60 minutes.