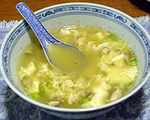 Prep: 10 min
Cook Time: 14 min
Total: 24 min
Serving: 4 Servings
This surprisingly quick dish is both delicate and ideal as a soup starter for your next dinner party.
Ingredients
8 cups chicken broth
1/2 cup pastina
12 ounces asparagus, trimmed and cut into 1 1/2-inch diagonal pieces (2 cups)
4 large eggs
1/2 teaspoon lemon juice
1/4 teaspoon salt, optional
Directions
In a large soup pan, bring the broth to boil over high heat and then stir in the pasta.
Cook the pasta in the broth according to package directions, and then stir in the asparagus. Reduce heat to medium and continue to cook the mixture, stirring frequently, for 2 minutes.
Crack the eggs into a bowl and whisk until frothy.
Carefully pour the eggs into the soup in a thin stream, slowly stirring with a large fork to form long thread-like pieces of egg.
Remove the pan from the heat and add the lemon juice. Stir the soup and then ladle into bowls and serve hot.