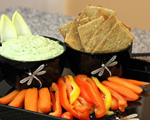 Prep: 1 hr 35 min
Cook Time: 3 min
Total: 1 hr 38 min
Serving: Serves 4-6
Edamame soybeans are healthy, high in protein and phytoestrogens, and low in carbs. They also make a wonderful base for this edamame and tofu dip.
Ingredients
1 cup silken tofu, drained
2 cups frozen shelled edamame
2 teaspoons salt
3 tablespoons lemon juice
2 tablespoons sesame oil
1 teaspoon minced garlic
1 teaspoon sugar
1 teaspoon ground pepper
1/4 cup minced cilantro
Directions
Bring a large saucepan of salted water to a boil and then add the edamame. Cook for 3 minutes, drain and then place in a food processor.
Crumble the tofu into pieces and then add to the food processor along with the salt, lemon juice, sesame oil, garlic, sugar and pepper. Blend the mixture until smooth and then transfer to a bowl.
Stir in the cilantro and then cover the bowl and place in the refrigerator for 1-1/2 hours to chill. Serve with crudités and crackers.