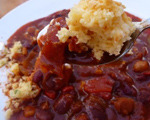 Prep: 10 min
Cook Time: 42 min
Total: 52 min
Serving: Serves 4-6
Serve this spicy vegetarian chili, made with an assortment of vegetables, chipotle peppers, beans and chocolate, over cornbread to soak up all the wonderful sauce.
Ingredients
2 tablespoons olive oil
1 large onion, chopped
2 large carrots, chopped
2 stalks celery with leaves, chopped
1 large bell pepper, chopped
2 chipotle peppers, canned in adobo sauce, chopped
1 tablespoon cumin
1/2 teaspoon ground ginger
1 15-ounce can kidney beans, rinsed and drained
1 15-ounce can black beans, rinsed and drained
1 15-ounce can vegetarian refried beans
1 28-ounce diced tomatoes (fire roasted if you can find them)
1 6-ounce can tomato paste
1 cup water
1 cup frozen corn kernels
1 sweet potato or yam partially-cooked in microwave for 3 minutes, cut into chunks
1 tablespoon brown sugar
1 tablespoon dark chocolate, chopped
2 tablespoons apple cider vinegar
Sea salt and freshly ground black pepper
Directions
Place the olive oil into a large soup pot over medium heat. Once the oil begins to shimmer, add the onion, carrot, celery, bell pepper and a few pinches of salt and pepper, and sauté the mixture for 7 minutes.
Add the cumin, ginger, and chipotle pepper, stir to combine, and cook for 1 minute before adding the tomato paste, beans, canned tomatoes and water. Bring the mixture to a simmer and then add the corn, sweet potato, brown sugar, and chocolate. Simmer the mixture over low heat for 30 minutes and then stir in the vinegar; serve immediately.